Free As A Bird
The video for the new Beatles song, "Free As a Bird," has references to many other Beatle songs and events. Here's a chronological listing of what's in the video.
---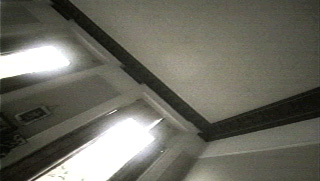 The sound of a bird's wings is heard both on this video and
on the original version of "Across the Universe."
0:00:10
---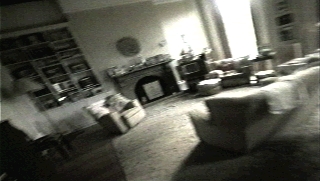 The opening sound effects and flight effects throughout
could represent "Flying," "And Your Bird Can Sing,"
"Norwegian Wood (This Bird Has Flown)," "Blue Jay Way," and "Blackbird."
0:04:06
---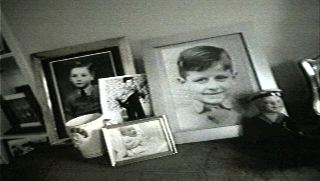 "In My Life," the lads as lads. Top row, John, George and Ringo.
Bottom row Paul. 0:08:27
---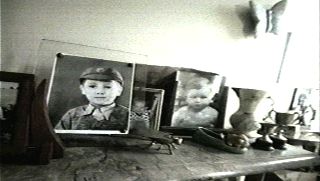 Fly and butterfly may represent "Flying"
0:16:07
---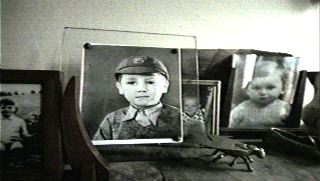 More of the lads as lads. Left to right, Paul, John, Ringo, & George.
There's an "Old Brown Shoe" in front of George.
0:17:14
---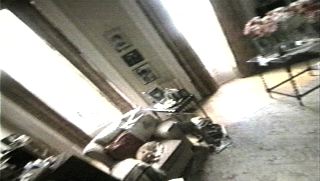 The cat. "I'm Only Sleeping"
0:21:08
---

"Here Comes the Sun"
0:24:01
---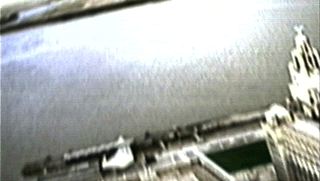 Liverpool's River Mersey
There are places I'll remember. "In My Life"
0:28:12
---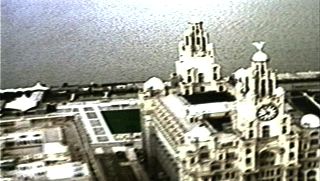 Royal Liver Buildings (pronounced Lye-ver)
0:29:11
---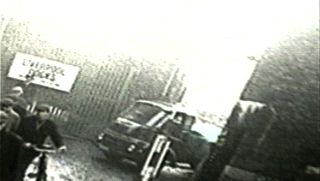 Liverpool Docks
0:32:22
---

John Paul George & Ringo with the crowd in the "Rain"
0:39:04
---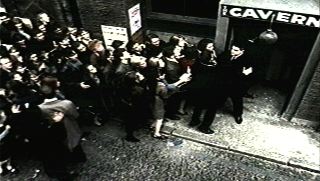 The Cavern Club. The bouncer has a flat top "Come Together"
0:48:13
---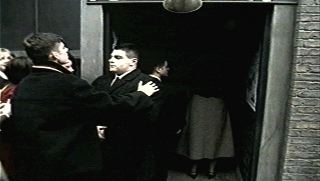 Its very hard to see the top half of the girl who's
waiting in the doorway to enter the Cavern.
This leads some to tell her "I'm Looking Through You"
0:50:25
---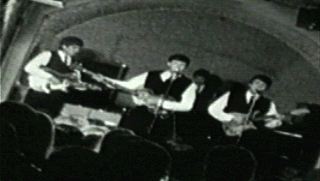 The Beatles perform "Some Other Guy" at the Cavern 0:54:21
---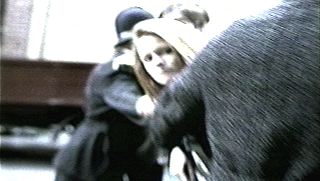 Police restrain fans from approaching the Beatles
1:02:03
---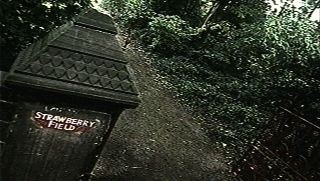 Strawberry Field, "Strawberry Fields Forever"
1:08:10
---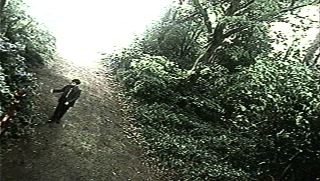 Who's this at Strawberry Field? John? "Mother Nature's Son?"
1:10:18
---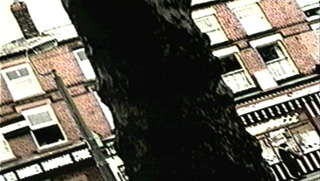 Silver Hammer Hardware Store, from
"Maxwell's Silver Hammer"
1:15:29
---

See how they run, "Lady Madonna"
1:20:14
---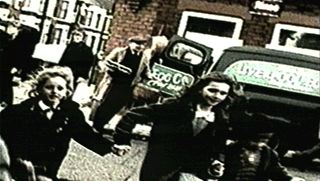 Foreground: "I Want To Hold Your Hand"
Background: I am the eggman, "I Am the Walrus"
Above the Eggman's truck is a sign that says Ringo.
1:21:27
---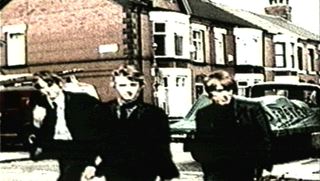 Paul, Ringo & George cross the street
1:25:17
---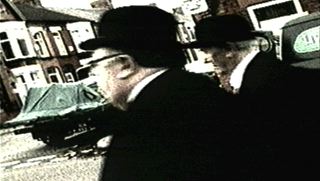 Anybody got a bit of money?
Ah ah, Mister Wilson, ah ah, Mister Heath; "Taxman"
1:27:29
---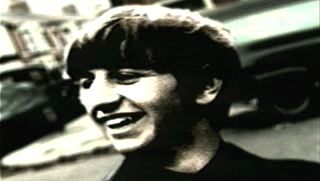 Ringo
1:29:14
---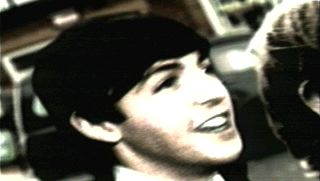 Paul
1:30:20
---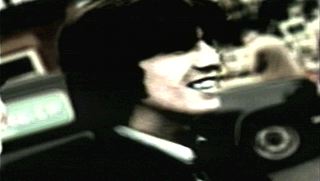 George
1:31:15
---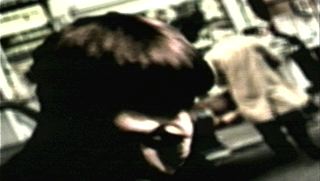 John
1:32:12
---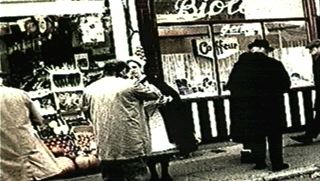 At left, a barrow in the marketplace "Ob-La-Di, Ob-La-Da"
At right, the barber, "Penny Lane"
1:34:18

---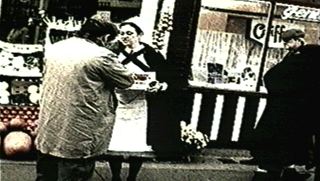 A pretty nurse is selling poppies from a tray, "Penny Lane"
1:36:10
---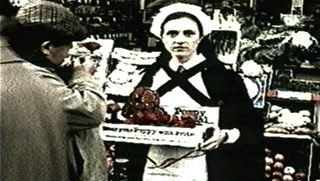 And though she feels as if she's in a play, "Penny Lane"
1:39:21
---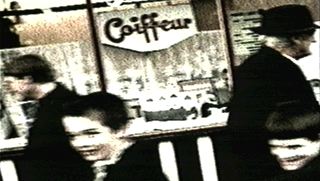 Every head he's had the pleasure to know. Notice photo of the Beatles in foreground of window.
"Penny Lane"
1:41:18
---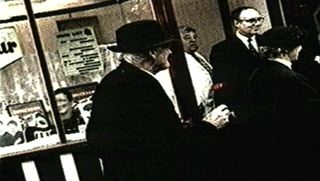 The Barber, "Penny Lane"
1:44:22
---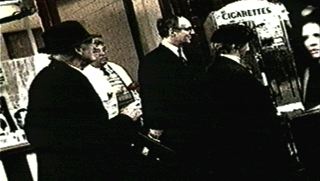 I'll have another cigarette, "I'm So Tired"
1:44:04
---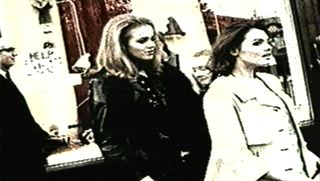 "Help" on a sign in the window.
Mandy Rice-Davies & Christine Keeler, the ladies of the 1963 Profumo scandal in Britain.
Some have suggested that Rice-Davies, in the shiny black coat,
may be "Polythene Pam."
1:48:16
---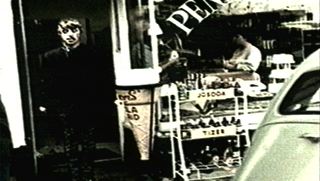 Ringo stands in the door of the "Penny Lane" bakery
1:52:15
---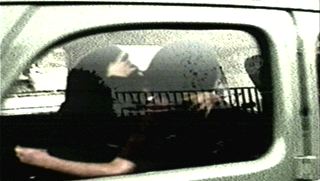 John & Yoko answer the eternal question, "Why Don't We Do It In the Road?"
1:54:04
---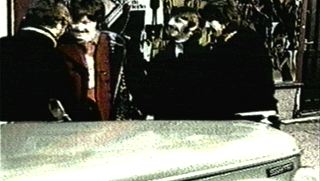 John, Paul, Ringo & George
1:56:01
---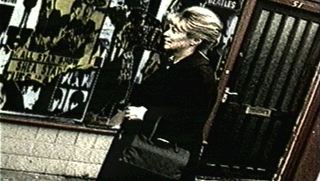 The address, 51, is in the upper right. What does it mean?
1:59:05
---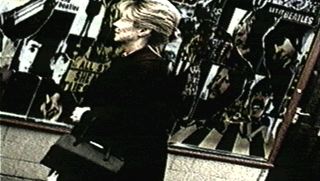 On the right, the future cover of Anthology 3 (almost certainly)
1:59:27
---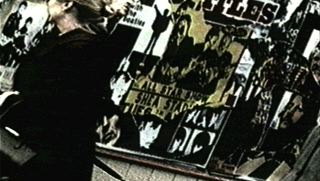 In the center, an early look at the cover of Anthology 2
2:00:20
---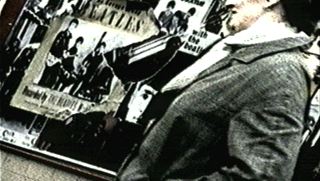 At the left, the cover of Anthology 1
2:01:17
---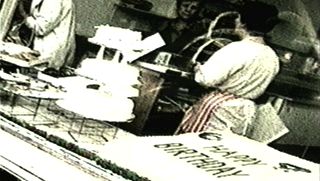 You say its your "Birthday."
The cake has two digits on it, "When I'm Sixty-Four"
2:05:14
---

George arrives at Apple headquarters
2:10:17
---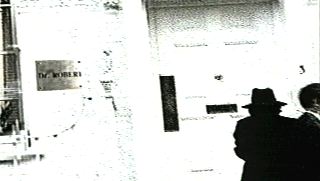 Dr. Robert's office, conveniently located at 3 Saville Row
2:14:23
---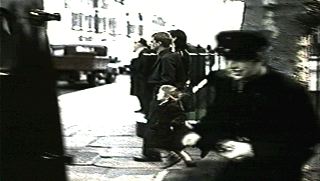 Ringo has his camera
2:20:02
---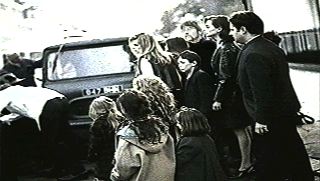 A crowd of people stood and stared, including John. "A Day In the Life"
2:24:02
---

He blew his mind out in a car. "A Day In the Life."
You were in a car crash. "Don't Pass Me By"
The license plate is either YEE 7 or YFE 7.
One suggestion was that it means "Wifey 7," and refers to the seven Beatle wives.
2:27:15
---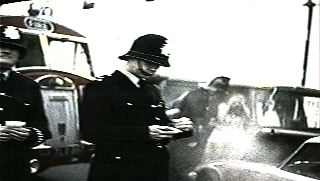 He likes to keep his fire engine clean.
It's a clean machine. "Penny Lane"
2:29:08
---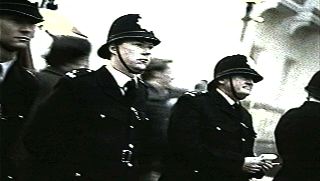 Pretty policeman standing in a row, "I Am the Walrus"
2:30:20
---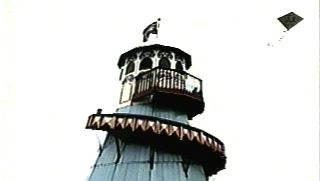 I go back to the top of the slide, "Helter Skelter"
2:39:02
---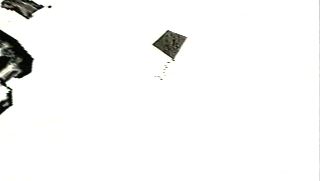 "Being For the Benefit of Mr. Kite"
2:40:00
---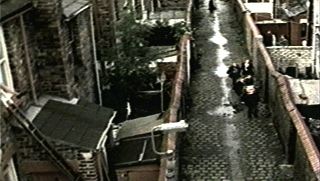 The ladder leads up to a leg disappearing where
"She Came In Through the Bathroom Window;
2:45:01
---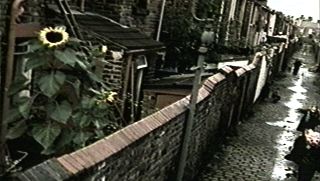 The flowers that grow so incredibly high
"Lucy In the Sky With Diamonds"
2:48:13
---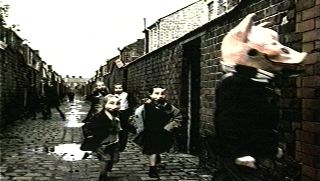 "Piggies"
also See how they run like pigs from a gun, "I Am the Walrus"
2:55:01
---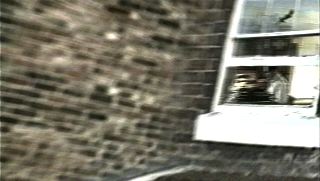 Like a Lizard on a Window Pane
"Happiness is a Warm Gun"
2:58:18
---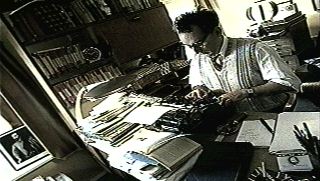 "Paperback Writer" and the clock reads 10:10, which is "One After 909"
3:02:29
---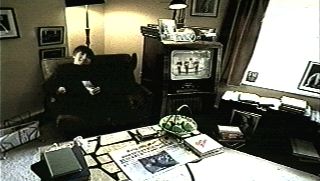 John, a bowl of shiny green Granny Smith apples, and the Beatles on Sullivan.
Also a newspaper headline about 4,000 holes found in Blackburn, Lancashire,
"A Day In the Life".
And a box of "Savoy Truffle."
On the floor, to the right of the truffles, is a portrait of the Queen,
"Penny Lane" & "Her Majesty"
3:09:08
---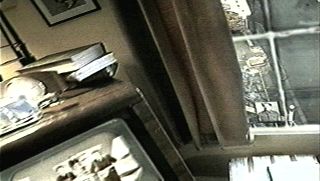 On the window, a picture of Chairman Mao "Revolution"
3:12:04
---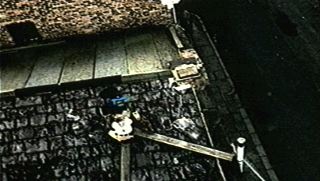 A blue meanie peeks out while the man is "Fixing a Hole"
3:14:18
---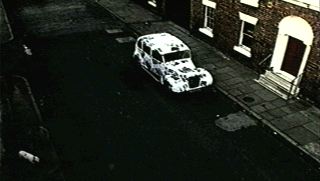 On the left side of the street, being walked is "Hey Bulldog"
3:21:12
---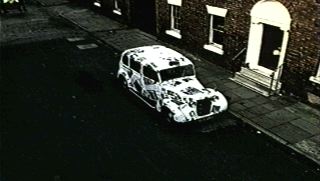 Newspaper taxis appear "Lucy In the Sky With Diamonds"
3:22:26
---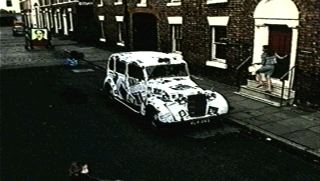 She goes out "For No One, "
and carrying pictures of Chairman Mao "Revolution"
And Max, the Blue Meanie, does an encore.
Sleeps in a hole in the road, "Mean Mr. Mustard"
Does this mean that the Meanie's full name is Max Mustard?
3:24:20
---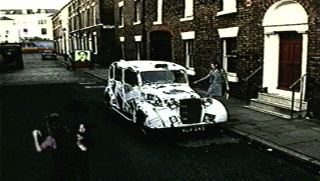 John & Yoko waltz, from "I Me Mine" segment of Let It Be
Bus at end of street from Magical Mystery Tour
3:26:13
---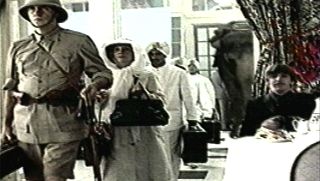 Bungalow Bill, his elephant and gun, in case of accidents he always took his mom.
"The Continuing Story of Bungalow Bill"
Ringo is at right.
3:35:14
---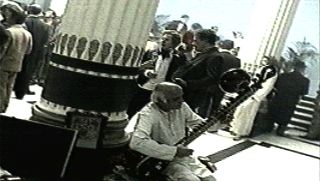 I guessed he was Ravi Shankar, but he's probably not.
Lets just say he represents the influence of Indian music.
3:42:17
---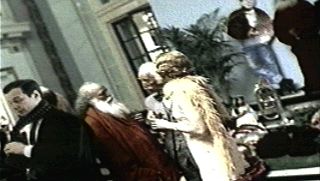 Brian Epstein puts on his scarf to leave,
"I Don't Want To Spoil The Party"
3:49:00
---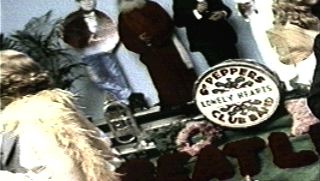 "Sgt. Pepper's Lonely Hearts Club Band"
3:50:06
---

Stu Sutcliffe on the James Dean cutout,
and, I thought, the Maharishi Mahash Yogi.
It's not Ram Dass, as someone suggested.
Turns out ol' Ram is American.
3:52:09
---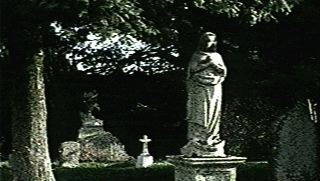 Mother Mary from "Let It Be" or "Lady Madonna"
3:59:02
---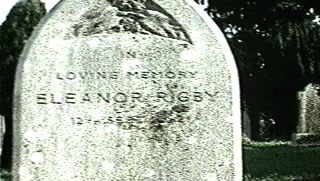 "Eleanor Rigby." September 12th.
The song was certified US Gold on September 12, 1966.
Another odd suggestion is this obscure song
from the Broadway musical "Hair."
4:01:14
---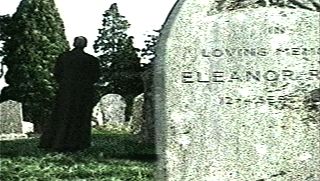 Father Mackenzie from "Eleanor Rigby"
4:02:26
---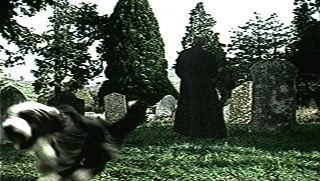 "Martha My Dear" and Father Mackenzie
4:04:04
---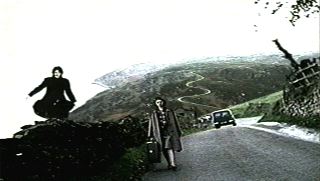 "The Fool on the Hill"
"She's Leaving Home"
"The Long and Winding Road"
4:08:25
---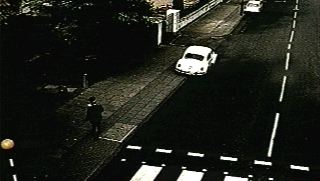 "Lovely Rita," filling in a ticket in her little black book.
4:15:08
---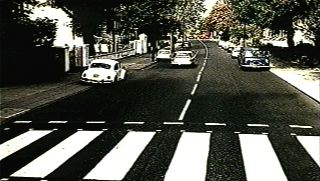 Abbey Road
4:21:07
---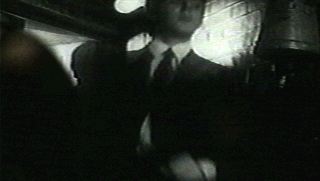 Paul in A Hard Day's Night
4:32:11
---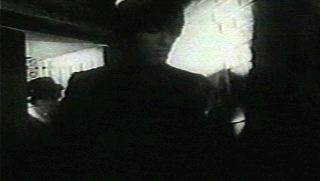 John & George in A Hard Day's Night
4:32:24
---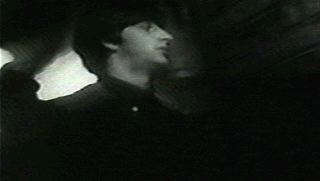 Ringo in A Hard Day's Night
4:33:17
---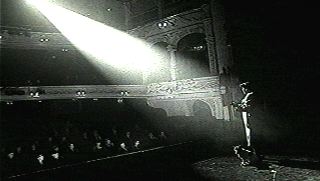 A man and his dog. What does it mean?
4:40:08
---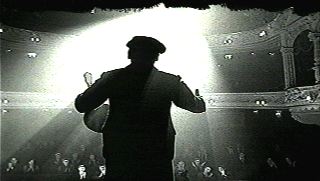 The curtain falls, "The End."
The performer plays a Banjo-Uke, and is
George Formby, a British music hall performer of the 30s & 40s.
Formby was known to say "it's turned out nice again," which is the backwards
message heard at the end of the song.
4:49:08
---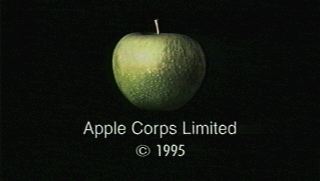 Images are ©1995 Apple Corps Limited
Descriptions ©1995 &1996 David Fell
For research purposes only. Publishing for profit is expressly prohibited.